Unumprovident -UNM - 52 week range $13.75 - $59.50; current price $17.00. UNM - insurance provides disability, specialty risk insurance, long term disability, life and accident. Book value - $20.57; debt - very low; shares outstanding - 240 mil; dividend - .59.
99
98
Rev
9.4 billion
8.6 billion
Net Income
$2.66*
$2.82
*before special charges - including recent merger
Year 00 earnings est. equals $2.72. Even with a $2.72 est. and a share price of $17.00, our estimated PE is only 6.25x 00. In our opinion, this is a gift from the moron brokerage firms that down-graded UNM. We find it so amazing that the majors are such poor investors. We always BUY what they SELL and SELL what they BUY.
As the tech bubble pops, smart money wants to hide in companies that have real balance sheets and a real business plan, plus tasty yields. Insurance stocks have been slaughtered during the past 24 months. In our opinion, the real risk is not owning them at rock bottom prices. We are also a holder of SAFC, another giveaway insurance company. Many dot coms investor types will need insurance after the recent meltdown. We rate UNM a strong BUY at current levels!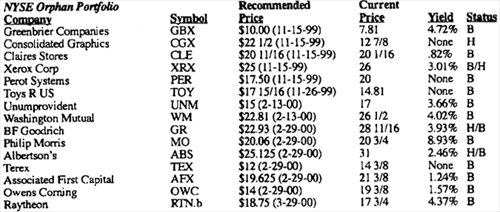 Washington Mutual - MW - high quality bank - primarily mortgage banking. Current price - $26.50; 52 week range - $21.625 - $45; book value - $15.50; cash - $4.29; 557 million shares outstanding; dividend - $1.08; rev. for 99 - $8 billion and net income/sh $3.16; Dec 00 est. $3.50; Dec 01 est - $4.00.
WM is currently trading at around 7.5x 00 numbers and 6.6x 01!!!! With these numbers WM deserves to trade in the 40s, not the 20s. We are long-term on this high quality bank. While we wait, we get a juicy dividend!
In our opinion, the time to buy interest-rate sensitive stocks is before the Feds stop raising interest rates. Most likely the Feds will only raise 1/2 - 3/4 points, additionally. The Feds do not want to throw the US and the world into recession. WM is a definite core financial holdings. Maybe a takeover candidate. Has been buying back shares, growth has been consistent due to well seasoned management, trading near 52 low and most likely will also raise the dividend. This is a winner at fire sale prices.
BF Goodrich - GR - Hold/Buy - Aerospace industry and general aviation aircraft. 52-week range - $21 - $45; book - $11.48; dividend - $1.10; yield - 3.93; Dec 00 earnings est. $3.14; Dec 01 earnings est. $3.41. Announced stock buyback of up to $300 million of its common. 1999 five consecutive years of sales and earnings growth. Got to be worth more than this. We intend to monitor this situation for long-term appreciation.
This situation has moved up dramatically since our recommendation on 2-29-00 @ $22.93. A pullback to the $24.45 level we would secure a position in this leader. This is a great company that has been orphaned by the idiots that pretend to know what investors should buy! Every investor who has only been investing for the past six years or so should run to the bookstore and purchase a book on fundamental stock investing before he or she loses everything!
Philip Morris - MO - Buy - largest cigarette manufacturer within the US. Owns Kraft Foods and Miller Brewing (2nd largest brewing company in the US). Book value - $6.68; Range $18.68 - $43; dividend yield 8.93; dividend - $1.92; 99 rev $78 billion and $3.19 net/sh; 00 earnings/sh est. $3.67; 01 earnings/sh est. $4.15; near 52 week low; totally out of favor; recently purchased 97 million shares at a cost of $3.3 billion. This is a screaming buy with an eye-popping yield -- should be double the price - only trading at 5.6 est. 00 numbers !!!!!!!!
Even if you hate cigarettes, get over it! This stock is a steal. Got to own it at current levels. The dividend is secure. The legal woes that torment the industry have beaten MO's and others down to levels that again are fire-sale rated. MO owns Kraft Foods and Miller Brewing (maybe a spin-off some day). If you still hate the company, buy it now and donate your profits to the Cancer Foundation!
Albertson's - ABS - Buy - retail food-drug chain operates 983 stores; 52 week range - $24.25 - $61.00; annual dividend - .72; yield - 2.46; book - $13.01; year end - Jan 01 est. earnings of 2.67; 02 Jan - $3.06.
Great long-term investment. Food for thought. If you had no food, you would not have the internet! Great core holdings!!!
ABS has dramatically moved from our recommended price of $25.125. We rate a hold at current levels. If ABS falls back to the $25 - 27 level, we would secure a position. We also like KR and, of course, our favorite food retailer is still HMDL. (We called it our stock pick of the year 00 - published within Dick Davis Digest). HMLD earned .65 before special charges for 99. We believe that HMLD could earn .75 to 1.00 for 00. During the past year they acquired around 20 stores. HMDL looks like a take-over candidate @ $12 - $15. A far cry from current levels of $4.18.
TEREX Corp. - TEX - Symbol - buy - manufactures construction and mining related capital equipment. Book - $12.83; 52-week range - $11.125 - $35.50; dividend - 0; different tax situation this year - est. are all over the place - we will use $3.25.
This stock has to be worth more than $12.00 - PE est. of less than 4x. Another core holdings!!!!!!
On March 9, TEX announced that the company intends to purchase up to 2 million shares during the next 12 months. In addition, TEX believes that a prepayment of $200 million in debt by the end of this year will be successful.
Again, we believe that this situation is a great investment for a diverse portfolio. Trading near 52 week low, slightly above book, a PE est. for 00 of 4.3x and, of course, totally unloved. This stock, TEX, in our opinion, is a screaming Buy. The major brokerage firms will issue BUY ratings on TEX when the price doubles from here! Get in early.
Associates First Capital Corp. - AFS - Strong Buy - Current Price $21 3/8. High quality banking institution; book value $13.01; dividend .26; yield - 1.24%; Dec 99 - $2.03 actual; Dec 00 - $2.34 est.; Dec 01 - $2.66 est.
Earnings have increased each year for the 24 consecutive years. Another slaughtered bank stock that should never be trading at current levels. The herd trampled out of it and we trampled into it! A must own bank for the diverse portfolio. Could also be a takeover candidate.
Owens Corning - OWC - Current Price $19 3/8. The company produces and sells glass wool fibers formed into thermal and acoustical insulation and air ducts. Net sales for fiscal 99 equalled $5 billion, while net income before charges totalled $270 million. The earnings estimate for 00 is a mind blowing $5.11 and for 01 $5.55. With these numbers OWC is still rated with a BUY recommendation. We initially recommended OWC at $14 on 2-29-00.
Note: Net income reflects the absence of a $1.42 billion asbestos litigation charge. OWC still trades at around 4x 00. Believe it or not, the internet needs OWC for its buildings and server farm compounds. A hot server is a dead server!
Raytheon - RTNb - The B's - current price $17 3/4. One of the largest diverse military, aeronautical and defense companies within the US. Book - $32.96; dividend - .80; yield - 4.37; shares outstanding - 234 million; total cash - $230 million; rev for 99 - $19.8 billion and $1.19 net - fully diluted. See Jan 25 press release for complete year-end results - with $28.4 billion in backlog. See press releases for new contracts: $109 mil - 1-27-00; $83 mil - 2-3-00; $108 mil - 2-16-00; $15 mil - 3-1-00; $667 mil - 3-8-00; $162 mil 3-17-00; $120 mil - 3-25-00. Estimates for 00 - net/share $1.71; 01 - net/share $2.00.
This is a great core holdings for value investors willing to hold cheap stocks for the long term. One day a military event will occur and the masses will come zooooming over and ramp up the value of our shares. While we wait, we get an attractive yield and also we should get stock appreciation because this stock is very oversold! RTNb was $80.00 within the last 12 months. This stock is a screaming buy!
NYSE listed stocks - broker contact: Greg Nelson, 1-800-269-9460