NCE-Petrofund is a closed-end royalty trust that acquires and manages producing oil and gas properties in Western Canada and distributes the resulting cash flow to unit holders on a tax-deferred basis.
NCE-Petrofund ("the Fund") is designed to provide investors with high levels of cash distributions through investments in the oil and gas industry. The Fund provides the benefits of owning producing oil and gas properties, without the exploration-related risks associated with investments in common shares of oil and gas companies. Unlike oil and gas companies, whose earnings are retained for reinvestment, NCE-Petrofund pays out all net cash proceeds from producing properties to the Fund' unit holders. All income flows to unit holders through monthly distributions.
2. Since 1989, the Fund has been acquiring and developing high quality, long life oil and gas properties and distributing the resulting cash flow through monthly income distributions to unit holders.
At present the royalty trust has 55 million units outstanding. The current production/day equals at least 11,700 boe (barrels of oil equivalent). The established reserves equals 49 million boe. The reserve life is over 11 years. During 2000 the reserves increased by 355%. The oil and gas balance 58% oil - 42% gas. NCE-Petrofund is the 5th largest oil and gas royalty trust in Canada.
NCE-Petrofund acquisition strategy:
1. Long-life quality assets.
2. Diverse oil and gas mix.
3. Secure geographical and geological diversity.
4. Expand portfolio of core properties.
5. Provide short-term cash flow with long-term stability.
NCE-Petrofund looks to achieve a rate of return of 15%, acquisitions must be represented whereby 70% of the purchase price equals proven reserves. In addition, 50% of the properties must have a production life of greater than 20 years and all major purchases are subject to an independent engineering review.
NCE-Petrofund's recent acquisitions of Crestar, July Lake, Weyburn & Kaybob cost $118 million (Canadian funds). The estimated reserves from the acquisition program equalled 24.6 mmboe (million barrels of oil equivalent). The cost or price/boe (barrels of equivalent) equals $4.79 (Canadian dollars). A very important factor needs to be magnified; that is, the oil and gas equivalent costs $4.79 CD, which in US funds equals around $3.40. The real picture, of course, is that in politically stable Canada NCE-Petrofund produces oil and gas in Canadian funds and sells the product for US Dollars. Recently oil has been priced at around $30/barrel. It is easy to see why the returns are mind-blowing! We get a stable country that borders the US, cheap, plentiful and high grade O & G equivalents, seasoned management, huge dividend payout (25%) and a juicy unit price of $5.30 CD or around $3.60 US, which should be priced at around double the current levels because the historical yield for trust of this nature within the US or otherwise should be yielding only 12%. This factor alone indicates the NCE-Petrofund could easily double from current levels.
During 1998 Petrofund distributed to unit holders (remember that the dividends are tax deferred) a total of 48 cents CD. During 1999 distribution increased to 61 cents CD. During 2000, running through July 31, 2000, the distribution has reached 74 cents CD. If NCE-Petrofund only distributes .11/month during the remainder of 2000, then our total dividend would equal CD$1.29 or around $.90 US funds. According to management, distribution of .11 to .12 CD would be based upon US $28.50 WTI (West Texas Intermediate) oil price and $2.60 Canadian gas price.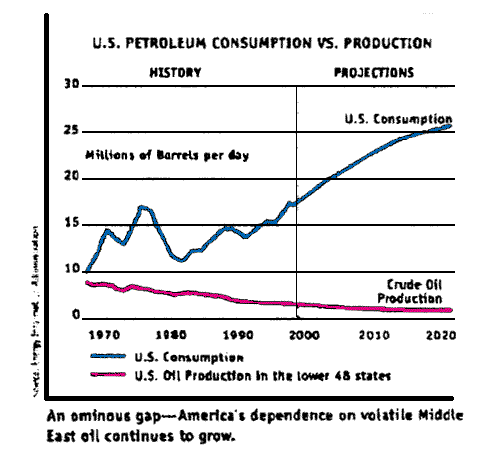 It is only natural to assume that with oil/barrel at around US $30/barrel and US $4.00/mcf (thousand cubic feet) for gas that the payout will be much higher than current estimates. It should also be noted that only 20% of the production is hedged! It is also our opinion that oil prices during the next six to twelve months will range between $25 - $35/barrel, while gas/mcf will see a low of $3.50 to a possible high of $7.00.
It is evident that the balance of 2000 will yield higher prices due to continued economic growth, limited non-OPEC supply growth, low inventories, constrained Iraqi output and the lack of supply to keep pace with the demand. Concerning natural gas, many utilities have switched to gas, demand continues to out-strip supplies, recent warm winters have had little affect upon prices. A severe or even normal winter could spike gas to within $6 to $7/mcf. With lower relative storage levels, strong demand growth, and higher crude oil prices, we see support for strong natural gas throughout 2000.
PS: Any severe weather within the Gulf of Mexico which disrupts production and flow of gas -- all bets are off and prices will be heading skyward.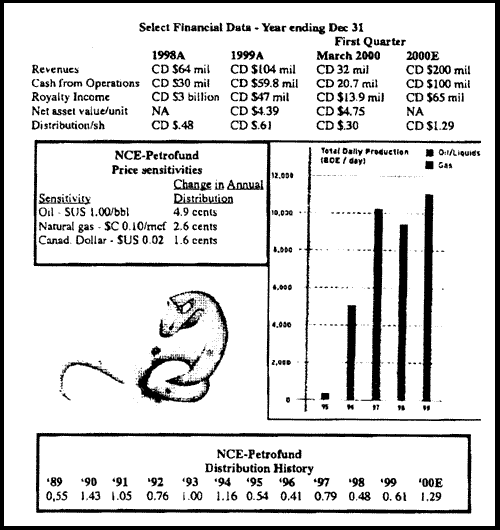 We are extremely bullish towards NCE-Petrofund (NCF_U.TO or NCF.UN - Toronto Ex.) and believe that it belongs in every diverse portfolio that is geared towards capital appreciation and income with limited downside risk. In our opinion, NCE-Petrofund is the perfect investment! We have seasoned as well as quality management, a long-term track records of ever increasing growth and royalty income, cost of goods and services remain discounted 30% (that is O & G produced in CD$ and sold in US$), a gusher of a yield (at present 25%), and world oil and gas prices very firm and most likely heading higher, an investment vehicle not fully understood or have knowledge about (we actually anticipate listing of NCE-Petrofund within the US such as on either the NYSE, AMEX or NASDAQ), and let us not forget the tax deferred status of income received while the units are held! We rate NCE-Petrofund with a STRONG BUY recommendation at current levels; that is, around $3.60 US.
For a more complete overview of this company, please visit website http://www.NCEROURCES.COM; e-mail: info@NCERESOURCES; investor relations: 1-416-364-9297; main number 1-416-364-8788. Broker Contact: Greg Nelson at 1-801-256-2160.
We intend to monitor NCF_U.TO or NCF.UN in our master portfolio for percentage gain performance.
PSS: July 26, NCE-Petrofund closes a $48.25 million purchase of interest in Weyburn Unit.
July 28, NCE-Petrofund files prospectus for up to $30 million. Net proceeds of the issue will be used to fund new acquisitions, working capital, development projects in Western Canada and to retire debt. We view this as very bullish for continued growth of NCE-Petrofund and in the long term will benefit shareholders.
Finally, NCE-Petrofund (NCF.UN or NCF_U.TO) is a must own!