The company operates a chain of supermarkets in OK, southern KS and the Texas Panhandle region. ( Phone: 405-879-6600) The company operates 69 stores.
Turnaround: 4.8 million shares outstanding; SOROS FUND MANAGEMENT owns 630,815 shares; FRANKLIN RESOURCES owns 405,662 shares; MANAGEMENT- 141,855 shares; Book value-June 30th-$7.76; cash-$5.8 million; 52-week range-$3-$9.00; 6-month sales-$244,912,000.00 with .27 net income/share before AMORTIZATION OF EXCESS REORGANIZATION VALUE! When you include this noncash item the net income turns into a loss of $1 .07/share!
Within the latest 10Q -Management Discussion ending June 30th:
The company is amortizing its excess reorganization value of $45 million over a three-year period, and such amortization has affected earnings significantly. If the company excluded such amortization of excess reorganization value for the 12 and 24 week ended June 30th 98, the company would record net income per share of .09 and .27, respectively. This write-off will affect earnings for the next 5 fiscal quarter.
The company will show sales of around $450-$475 million for the year and earnings before the NONCASH item of .50/share (this is our guess, but the six months prior indicates something! When we publish our next letter we will zero in on more finite numbers.
Anyway that you digest this situation indicates that the downside is limited, while the upside potential looks very promising. If HMLD earns .50 before the noncash item it currently trades at 7X est 98 numbers! It currently trades at only 40% or so below stated book and .035 of sales. The supermarket arena has been a tasty takeover segment and HMLD may get eaten! G. SOROS is a very smart investor and may see a free meal!
For the first 36 weeks of 1998, net sales were $363,041,000 compared with $351,249,000 for the first 36 weeks of 1997. EBITDA was $14,858,000, up from $14,450,000. Net income, excluding amortization of excess reorganization value, was $970,000, or $0.20 per diluted share, for the first three quarters of 1998 and $1,835,000, or $0.39 per diluted share, for the same prior-year period.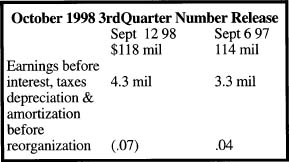 Back to top | Back to Newsletter | View Disclaimer
Homeland Holding Corp. - MANAGEMENT DISCUSSION
"The third quarter's financial results were consistent with our overall expectations, as we continued to stabilize and strengthen Homeland's existing base of stores in operation," remarked Mr. Clark. "We were especially pleased with the significant increase in EBITDA, which, due mainly to an improved gross margin for the quarter, rose to 3.6% of net sales from 2.9% for the third quarter last year. We achieved this improvement in spite of a decline in same-store sales of 1.4%, which resulted primarily from greater competitive promotional spending and new competitive store openings.
"We remain committed to building unit volume in our existing store base. Our strategy to achieve this goal includes the continued promotion of the Company's Frequent Shopper card program, increased direct marketing efforts, ongoing programs to remodel and enhance our stores and improved in-store execution. In a difficult operating environment, we believe we have made progress in each of these efforts thus far during 1998. In addition, with the third quarter hiring of John Rocker as Vice President of Operations and Wayne Peterson as Chief Financial Officer, we now have the management team in place to implement our strategies more effectively."
Note: Wayne Peterson came from Buttrey Foods - a recent takeover candidate:
As mentioned earlier in this piece, we anticipated positive earnings for the third quarter, minus, of course, the reorganization cost. This didn't happen. We had thought that $.50 for the year was doable. It looks like $.30 would be a better number. We still rate HMLD a strong buy regardless. It trades heavily under book, most likely could be a takeover candidate and most importantly, the earnings picture will become clearer as time passes. We see little to no downside risk at current levels. This situation is under-followed, under-owned, undervalued and under most radar screens. If 99 turns out to be the year of the micros, HMLD should be a player. Even if we enter into a recession, people still must eat! At current levels, HMDL looks like a tasty treat.
Broker Contact: Greg Nelson at 800-269-9460.