When we first recommended TLTG, management estimated that for 1999 revenue would equal $30 million and net income/share would be at least .30/share. This in itself is quite dramatic since most internet related issues never really talk about earnings. Within a press release dated April 5, 1999, they had announced that they had already signed their third contract signed with major US telecom carriers and provide international termination of voice, fax and data transmissions using Teltran VoIP Service. According to President and CEO Byron Lerner, "After all installations are completed, we fully expect to be transmitting approximately 5 million minutes per month from the three contacts we have signed. The $12 million in annual revenues that we will realize from the contacts will give Teltran a base from which to grow as new countries are added to the TVS network. It appears as though we are on target to meet or even exceed my earlier projections of revenue in excess of $30 million annually and earnings of $.30 per share."
In addition, Teltran's President and CEO said, "With the Teltran VoIP Service agreements we have recently announced and the continuing improvement and expansion of our web portal, we remain excited about Teltran's short and long term prospects for growth."
Note: Graph A only deals with domestic calls. TLTG's main focus is international calling - much more profitable. Growth should actually be greater than domestic because cost is so much higher in the first place. (Note: Domestically you can call via telephone for 10¢/minute nationwide - obviously, not much profit - domestic internet calling very low margins).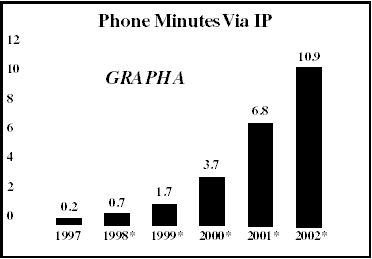 Teltran VoIP Service is a voice over internet protocol service using the Australian-developed system "OZEmail Interline" for making telephone calls across IP networks from touch-tone phones. With TVS, customers place calls directly to a local access point or point of presence. The call is then routed over IP networks, such as the internet, to create a wide area voice network. TLTG and OZEmail Interline have teamed up to provide telecom customers worldwide with the finest VoIP service in the world. TLTG is one of fifteen affiliates worldwide marketing the VoIP network of OZEmail Interline.
According to Mr. Lerner, "Once customers experience the call clarity and see the potential cost savings we feel our success rate will be very high in quickly transmitting millions of minutes per month through our VoIP network."
It is obvious to us that internet telephony is going to be huge and the next explosive wave within the world of cyberspace. IDT Corp. (IDTC) owns Net2Phone as a wholly owned unit. We have learned that within weeks IDTC will most likely spin off Net2Phone and commence an IPO. Last quarter total Net2Phone usage minute grew to 53 million up from 34.5 million. Once this is completed, a standard valuation will develop for internet telephony service providers. This interesting twist will allow investors a more clear picture in order to value TLTG more realistically.
If TLTG can achieve revenue growth of $30 million and earn .30/share for 1999 (note: this is from zero revenue). We believe that a PE of 30x is quite conservative. For year 2000 management is estimating .65/share. Many would value these estimated projections with a PE of 100+. We, of course, are usually very conservative and are strictly fundamental in nature. If we are to assume that a PE of 30x is suitable, then our share price would explode from the current level of $2.00 to $9.00 and $19.50, respectively. Obviously, when one takes into account the lunatics bidding up internet related issues, TLTG could go to $50. There are many unknowns. What is known in our opinion is that TLTG is a great internet speculation with huge upside potential near term and long term. We still rate TLTG with a strong buy for risk oriented accounts. Recently became fully reporting as promised - at present around 10 million shares outstanding and 2 million in the float. Finally, management is a class act. They seem to be able to deliver on all statements! We are impressed. Website: http://www.teltran.com Broker contact: Mike Chesler at 1-800-890-1629.
Corporate Number: 1-888-Teltran
We intend to monitor TLTG in our model portfolio for percentage gain performance. A great speculative core holding involved in an enormous telecommunication evolution.