On October 14, 1999, we recommended FCIN via e-mail @ $2.18 (in our opinion, FCIN has all the ingredients to be one of our stock picks for the year 00, based upon severely undervalued fundamentals).
Flour City International, Inc. is a worldwide leader in the design, fabrication and installation of custom exterior wall systems used in the construction of a wide range of commercial and governmental buildings. The Company works closely with architects, general contractors and owners/developers in the development and construction of highly recognizable mid-rise and high-rise office buildings, public-use buildings, such as courthouses and airport terminals, and other well-known landmark buildings and uniquely designed structures.
FCIN is one of the largest curtainwall manufacturers based in the US. Established in 1893, FCIN has a century-plus reputation for excellence in designing, engineering, fabricating, and installing custom curtainwall and architectural metal products.
The Company focuses on "custom" curtainwall projects, which typically represent as much as 15% of a building's cost structure. Custom projects, as opposed to "standard", are typically larger projects characterized by higher margins and less competition. Flour City operates around the world, serving clients in Africa, Asia, Europe, the Middle East, and the Americas.
Examples of buildings worldwide that chose FCIN as the curtainwall contractor:
G.T. International Tower, Manila, Philippines
Empire Towers, Bangkok, Thailand
JFK Airport, Terminal 1, New York, NY, USA
Equitable Tower West, New York, NY, USA
First Interstate Bank Power, Los Angeles, CA, USA
Fountain Place, Dallas, TX, USA
Citicorp Center, New York, NY, USA
Rock and Roll Hall of Fame, Cleveland, OH, USA
Society Bank Tower, Cleveland, OH, USA
United Airlines Terminal, Chicago, Ill, USA
Business conducted - North America 30% - Pacific Rim 70%
IPO - May 98, around $10/sh
As of September 13, 1999, 6.2 million shares fully diluted
Management owns 2.8 million
Treasury stock - 700K
Cash as of July 31, 1999 - $17.5 million or $2.82 or $3.18 in cash if we minus out the treasury stock.
Book value as of July 31, 1999 - $22 million or $3.55 or $4 if we minus out the treasury stock.
August 26, 1999 - appoint "new" auditor; namely, Grant Thornton.
August 27, 1999 - reorganizes and strengthens management team.
September 15, 1999 - approves repurchase program (500K) - releases third quarter numbers - would have shown a profit of 3¢ (extraordinary loss due to bad debt. FCIN shows a loss of (.29). As of July 31, solid backlog of $91 million and outstanding bids of $242 million in NA and $85 million in the Pacific Rim.
September 21, 1999 - additional repurchase of 200K additional shares.
October 14, 1999 - FCIN announces contract for $13 million - firm backlog now $104 million.
October 18, 1999 - announces complete repurchase of approximately 700K shares
October 20, 1999 - FCIN announces contract for $20 million - firm backlog now $124 million.
October 28, 1999 - FCIN announces contract for $14.5 million - firm backlog now $138.5 million.
November 3, 1999 - FCIN announces contact for $10. 7 million - firm backlog now $149.2 million and outstanding bids of at least $250 million worldwide.
Management has indicated that the fourth quarter will show a profit (between .05 - .10). In addition, management believes conservatively that for fiscal 00 revenue will equal at least $65 million and net income/share will equal .72. These numbers came from IR via management.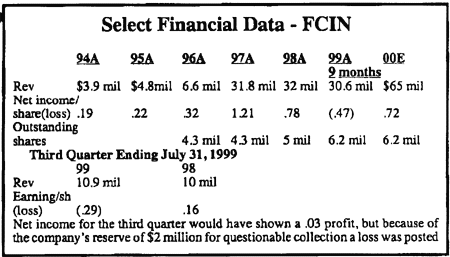 We have a severely undervalued NASDAQ micro-cap that is trading at a 25% discount to cash, 57% discount to book, new and enhanced management, no debt, successful stock repurchase of over 10% of the fully diluted outstanding shares, huge backlog of $150 million and super large bids outstanding of over $250 million, and an estimated dramatic revenue growth for fiscal 00 as well as an explosive earnings turnaround of .72 for fiscal 00! At the current price of $2.25, this stock, in our opinion, qualifies FCIN as a stock pick of the year for the year 00!
Conservatively, FCIN will grow by at least 50% during fiscal 00 over fiscal 99. If we assign a PE of 20 and use the estimated earnings/share generated from management, that is .72, we get a share valuation of $14.40/shares. This results in a 540% appreciation from the current stock price of $2.25! This business may be boring to the internet players, but that's their problem. This is a heavily discounted value with very little risk and huge upside potential during the next 6 - 12 months. We will buy boring all the time, especially when we can steal it for a fraction of its true worth. The company also has a "slick" website - www.flourcity.com. We are hearing a rumor that a cash dividend is also likely during January 00! This situation, in our opinion, belongs in portfolios geared toward the theme of fundamentally cheap and undervalued investing. We will monitor FCIN in our portfolio for percentage gain performance.
Corporate # CEO - John Tang @ 423-928-2727.; IR # - George Logan @ 949-566-9860; Broker # - Greg Nelson @ 1-801-256-2160.