Firecom. Inc. was formed as a New York corporation in March 1978. The company manufactures and distributes, under the Firecom brand name, safety and security systems for high-rise office building, hotels, apartment buildings and other larger commercial buildings. This division also is a distributor of life safety and other electronic building systems manufactured by other companies.
Fire Alarm and Communications Systems: The fire alarm and communication systems or "life safety systems" designed, assembled and sold by the Company have the following functions: (i) sensing and reporting fires, (ii) sounding alarms in the event of a fire, (iii) notifying the Fire Department of a fire through a "central station" connection, (iv) controlling basic building functions to prevent the spread of fire and smoke, and (v) allowing building-wide communication between fire fighters and building occupants. The Company designs systems for both new and existing buildings. The Company assembles the manual fire alarm station, floor warden stations, remote data gathering panels and the main fire command station which is typically located in the building's lobby. The Company purchases the sensing devices and speakers used in the system from other manufacturers. Once the system has been installed by independent electrical contractors, the Company tests and services the system.
During the fiscal year ended April 30, 1999, revenues from the sale of fire alarm, communication systems and other building systems constituted approximately 62% of the Company's consolidated revenues.
Firecom Life Safety Net 2000 System: The new Firecom LSN 2000 System represents what management believes to be the latest state-of-the-art technology available in Life Safety equipment. The Firecom LSN 2000 System integrates addressable and intelligent fire alarm sensing devices such as smoke detectors, manual fire alarm stations and sprinkler waterflow switches, and displays the status of these devices. This Firecom system includes a communication system consisting of amplifiers and loudspeakers for sounding alarms and paging from either a floor warden station or a fire command station. The newly designed LSN 2000 fire alarm and communication system is completely backward compatible to upgrade the older Firecom 8500 System as well as designed to meet the needs of the national market.
Other Fire Control and Communication Systems: The Company designs, assembles and markets fire control systems other than the Firecom LSN 2000 System and the Firecom 8500 System. The Company does not manufacture the control unit for these systems. Additionally, the Company distributes other electronic building systems and equipment under OEM agreements for Uninterrupted Power Supplies.
Service: The Company's life safety systems are covered by a one-year warranty. In New York City the Company offers service contracts covering such systems during and after the warranty period. Several other companies compete with the Company for the servicing business. The Company's subsidiaries handle maintenance services for the Company's products as well as products of other Life Safety equipment manufacturers.
For the fiscal year ended April 30, 1999, revenues earned from servicing systems constituted approximately 38% of the Company's consolidated revenues.
Fully reporting with SEC.
11.5 million shares outstanding.

Appears management owns 5.7 million "A" and common shares.
Other shareholders own 3 million.
Within the treasury another 2.5 million.
Around 700,000 free trading shares.

As of April 30, 1999 - $4,000,000 cash

Own building in Woodside, N.Y.
Total assets - $11,200,000
Total liabilities - $5,153,000
Total stockholders' equity - $6,038,000 as of April 30th.

Current book value - .52.
Cash/share - .35
When you subtract out the Treasury stock; that is, around 2.6 million shares, the value looks even more tasty - .44 in cash and .67 book value.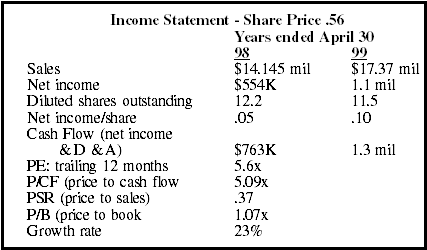 Actually, we see little chance that any investor type could argue that FRCM is an extremely fundamentally cheap investment with almost no downside risk from current levels. The balance sheet and income statement would excite any business school graduate, and the "father" of investing, Ben Graham, would "Buy" all that he could find at current levels.
If FRCM was to trade at growth rate, that is, 23%, then our share price would be $2.30 - based upon trailing 12 - not .56.
If FRCM was to trade at a more reasonable PE value of say 15x, then our share price would equal $1.50, not .56.
If FRCM was to trade at a PE value in line with the S&P 500 (around 33), then FRCM would trade at $3.30 (based upon trailing 12 months).
If FRCM was to trade at a conservative 5x cash, the FRCM would trade at $1.75, not .56.
If FRCM was to trade at an undervalued PSR of 1.5 instead of .35, then our share price would be around $2.375, not .56.
Do you get the point?
FRCM is basically an obscure, totally unknown super cheap fundamentally sound investment that belongs in value oriented accounts. In our opinion, little downside risk is present. The upside is that someone will acquire them and/or the stock will migrate to a more believable trading level; that is, between $1.50 and $2.00/share.
It's hard to believe that with the most absurd price valuations that are currently floating around within various industrial segments, some of the same idiot investors are paying "big" bucks for hollow dreams, and some might figure out that heavily discounted value offers downside protection from a sudden market turn and that buying discounted value always pays off in the long run!
We intend to monitor FRCM in our low priced model portfolio for percentage gain performance.
Broker contact: Mike Chesler @ 1-800-890-1629; Corporate # 718-899-6100.