!ENTITY serve CDATA ""> ]>
Fundamental Analysis II
From Chart AA it should be relatively easy to conclude that AMGC, when compared to a large cross-section of some of the largest employment services in the U.S., is very cheap when comparing current fiscal year and next fiscal year PE estimates. The average PE estimate for the group; that is, Barrett Business Services, Inc. (BBSI), Olsten Corp. (OLS), Robert Half International (RHI), Manpower, Inc. (MAN) and Norrell Corp. (NRL), for the current earnings year equals 21.8x. The following earnings year average calculates to 17.7x. Obviously, AMGC's 96 and 97 PE estimates are substantially lower than our group comparison. Upon review of Chart AA, AMGC's PE estimate for fiscal 96 and 97 calculates out at 6.2x and 4.6x (note: current share price of AMGC equals .56). If AMGC were to trade at a similar PE, then our share valuation would be dramatically higher than the current share price of .56. If we use 21.8x and 17.7x and value AMGC share price using earnings of .09 and .12, then our share price for AMGC equals $1.96 and $2.12, respectively. Almost four times the current price.
Does AMGC really deserve to trade at levels reserved for established, large revenue and earnings based and strong balance sheet peers? In our opinion the answer is no! But a more reasonable PE of 15x would be more acceptable. Please keep in mind that management believes that growth without any acquisitions will equal 30% during the next few years. Again, some would believe that AMGC should trade at its expected growth rate, thereby yielding a PE of 30x. Again we do not agree. AMGC has not established itself to date in our opinion with a track record of consistent revenue and earnings in the staffing in dustry, nor does it have a balance sheet that would be representative of a company sporting such a high PE multiple. We again reiterate that a PE of 15x would not only be more conservative, but more representative.
If AMGC were to trade at 15x with respect to fiscal 96 and 97 earnings of .09 and .12, then our share price would equal $1.35 and $1.80, respectively. A dramatic price appreciation from current levels of .56.
Fundamental Comparison of Employment Services Firms

Chart AA
Company		Symbol 	Current	Earnings/share		Earnings/sh
					Price		est. for current			est. next yr.
							fiscal yr. & PE est.		& PE est.
		
American Consolidated	AMGC		.56		.09 (FY 96) June		.12 (FY 97) June
Growth Corp.		(NASDAQ BB)			PE est. 6.2x			PE est. 4.6x

Barrett Business 	BBSI		13 3/4		.61 (Dec yr. end)		.83 (Dec. yr. end)
Services, Inc.		(NASDAQ)			PE est.  22.5x			PE est. 16.5x

Olsten Corporation 	OLS		38 7/8		2.02 (Dec yr. end)		2.41 (Dec yr. end)
			(NYSE)				PE est. 19.2x			PE est. 16.1x

Robert Half 		RHI		35 7/8		1.28 (Dec yr. end)		1.55 (Dec yr. end)
International 		(NYSE)				PE est. 28x			PE est. 23.1x

Manpower, Inc.          MAN             29 1/8		1.63 (Dec yr. end)		2.02 (Dec yr. end)
			(NYSE)				PE est. 17.8x			PE est. 14.5x

Norrell Corp. 		NRL		30 3/4		1.42 (Oct yr. end)		1.67 (Oct yr. end)
			(NYSE)				PE est. 21.6x			PE est. 18.4x
	1. Barrett Business Services, Inc. is a provider of temporary staffing and professional employer services in Washington, Oregon, Northern California, Maryland and Delaware.
	2. Olsten Corp. is North America's largest provider of home health care and related services, and one of the world's leading providers of staffing services.
	3. Robert Half International is the world's largest specialized provider of temporary and permanent personnel in the fields of accounting and finance.
	4. Manpower is the largest non-governmental employment service organization in the world. Manpower's employment services include temporary help, contract services and training and testing of temporary and permanent workers.
	5. Norrell Corp. is a leading national provider of temporary personnel and outsourcing services to businesses, professional and service organizations and government agencies.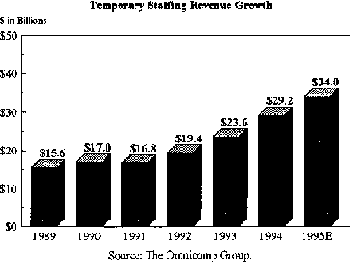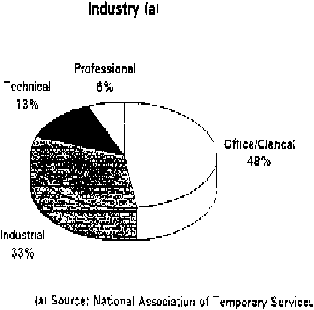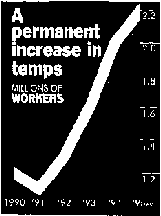 ---
[AAA InvestNet][AAA National Directories] [The Inter-Mall] [Myers Internet Services]

Copyright © 1995 Myers Internet Services