CORPORATE INFORMATION

Fiscal Year -September 30
Total Authorized Shares - 25,000,000
Shares outstanding as of August 12, 1996 - 6,966,884
Preferred Stock Authorized 5 million - 1.2 mil outstanding
Free Trading - 6,627,884
Management Control - 339,000
Current Price - $1.00
Market Cap - $7,000,000.00
Current Book Value as of 6-30-96 - $.77 (includes $4.9 million in goodwill)
PE estimate 1997 - fiscal year September - 12.5
PE estimate 1998 - fiscal year September - 6
Dividend - NM
Long term debt - $301,000.00
Shareholders - 1,700
Employees - 80
Stock Price range 1996 - $2.81 - .31
Warrants Outstanding - 2,733,219 redeemable. Each warrant is estimated to enable its holder to purchase 3.57 shares at an exercised price of $1.96/share any time until November 30, 1996. A registration statement on form S-3 covering the shares underlying the Redeemable Warrants was filed with the SEC on 7-31-96 and became effective on 8-7-96.
Transfer Agent - Continental Stock & Transfer & Trust, NY, NY
Auditor - BDO Seedman, NY, NY
Credit Line -$1,250,00 from Silicon Valley Financial. As of June 30, 1996. AVIT had only borrowed $195,000.00
Other information - During May and June, 1996, the company completed Regulation S placements of 1,492,144 shares of its common stock to offshore investors resulting in net proceeds of approximately $1,250,000. In addition, the Company sold 143,116 shares of its common stock during May and June 1996 for an aggregate amount of $100K.
Legal Proceeding - September 20, 1996, A.S. Goldman Co. filed court action pursuant to warrant registration. AVIT believes suit is without merit.

CORPORATE BUSINESS
DESCRIPTION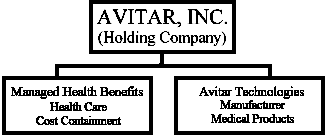 The Company designs, develops, manufactures and markets health care products and services including Hydrasorb™, a proprietary line of polyurethane wound care dressing. The Company also provides health care cost containment services to employers and third-party payers.


Avitar Technologies develops and manufactures disposable products for the medical, dental and consumer markets utilizing its proprietary, hydrophilic polyurethane formulation technology.


Some of the companies using or marketing AT's products include the Conva Tec Division of Bristol-Meyers Squibb, Smith and Nephew Richards, U.S. Surgical, Bose and CCA Industries.


Avitar's Hydrasorb™ wound dressing product is a highly absorbent foam dressing. In addition to the Hydrasorb line, Avitar Tech has custom developed specialty wound dressing for the cardiac catheter lab market as well the orthopedic market. The Illizarov Dressing used for dressing external bone fixators in the orthopedic procedures is marketed and sold by the Richards Division of Smith & Nephew.


Avitar Tech recently developed and is in the early stages of marketing a saliva collector device which is used as a component in the diagnostic testing of such diseases as HIV and Hepatitis. Avitar has the worldwide rights for the technology which utilizes the nonprotein binding characteristics of its polyurethane foam technology.


Avitar Tech continues to expand the number of applications for its proprietary technologies in a variety of other medical/consumer markets. They include a molded foam component which provides cushioning and sealing functions for laparoscopic surgery, a molded dental applicator for a consumer teeth bleaching system, disposable ear cushions for a high-tech noise attenuation device and several applications in the feminine hygiene market.
---
Corporate Headquarters
AVITAR, INC.
35 THORPE AVENUE
WALLING FORD, CN. 06492

Contact:
Peter Phildius - 617-821-2440
Jay Leatherman - 203-265-3594
---
Officers & Directors
| | | |
| --- | --- | --- |
| Peter Phildius | - | COB, CEO, Director |
| Doug Scott | - | President |
| Director J.C. Leatherman | - | Chief Financial Officer |
---
S.A. Advisory, an advisory firm, acts as a consultant to AVIT. We received compensation for production of this anecdotal research report. We may buy and/or sell shares in this issue at our own discretion.

HOTLINE 1-900-990-0909, EXT 192 ($2.00/min)
www.saadvisory.com