RESEARCH
September 1998 CORPORATE PROFILE
Country Star Restaurants
http://countrystarrestaurants.com
CORPORATE BUSINESS DESCRIPTION
OVERVIEW
INVESTMENT SUITABILITY
CORPORATE INFORMATION
OUR POSITION
CORPORATE BUSINESS DESCRIPTION

Country Star Restaurants, Inc. (the "Company"), which was formed in May 1993, develops, constructs, owns and operates country theme restaurants combining high quality, moderately priced food with a casual, family-oriented environment .

In recent years theme restaurants have gained increasing popularity, as a number of such restaurants featuring a variety of different themes have opened. The two most popular and well known restaurants of this genre are Planet Hollywood® and Hard Rock Cafe®, both of which combine an entertainment component with a casual dining atmosphere. Aside from enhancing the dining experience, the entertainment component also provides an additional revenue stream, predominantly from merchandise sales. Patrons of theme restaurants have evidenced a willingness to purchase souvenir T-shirts, hats, mugs, and other items bearing the logo and reflecting the life-style of the particular theme.

The first Country Star ® Restaurant opened in August 1994 in Hollywood, California adjacent to Universal Studios Hollywood and the Universal Citywalk development, a major tourist attraction. Country Star Hollywood features an exciting, entertaining dining experience, including an extensive display of country music memorabilia and artifacts, approximately 100 video monitors, 10 audio listening posts, and a number of interactive audio-video kiosks. The menu features moderately priced American and country-style food such as ribs, chili, chicken, burgers, steaks, salad, pizza, fish and desserts, which was developed to be consistently reproducible domestically and internationally. Country Star Hollywood also sells a variety of merchandise with the Country Star logo, including casual clothing, food products and other related items.

Country Star Hollywood is approximately 18,000 square feet in size, 4,000 of which is a partially enclosed outdoor patio, and has approximately 325 seats inside the restaurant and approximately 150 seats outside on an enclosed patio. One of Country Star Hollywood's dining areas also features a fully operational stage which is prewired for stage monitors and microphones, has theatrical lighting and two television cameras. Country Star Hollywood offers a wide range of moderately priced food in the Company's distinctive, exciting, interactive country music environment. Entrance to Country Star Hollywood is through a forty-two foot-high computer-driven electronic sign in the form of a jukebox in front of which the Country Star line dancers regularly perform.

The Company has recently completed the construction of a dance floor and bar in its patio area. The Company expects the patio area to serve as a venue for country music promotions, parties sponsored by local radio station KZLA and other events.

COUNTRY STAR LAS VEGAS

Country Star Las Vegas opened on the "Strip" in Las Vegas in July, 1996, and is one of the largest free standing upscale dining establishments in Las Vegas. The restaurant is an approximately 20,000 square foot, 500 seat, facility located in Las Vegas near the intersection of Las Vegas Boulevard South and Harmon Avenue. The site is situated between the Boardwalk Hotel and Casino development, and the Mirage Resorts, Incorporated's Bellagio Hotel and Casino development, presently under construction and scheduled to open in 1998. Within the immediate area of Country Star Las Vegas there are over 30,000 hotel rooms. The Company believes that Las Vegas' strong tourist economy and growing population represents a market that should be particularly receptive to the Company's country music theme dining concept.

One of the Company's key priorities in the near term is to inject new excitement into the Company's restaurant business in order to stimulate greater customer traffic. The Company plans to increase the frequency of celebrity events and promotions and broaden the number of celebrities associated with the Company, with an emphasis on new, up-and-coming stars. In addition, the Company is taking steps to broaden the appeal of its restaurants through menu revisions, the acceptance of reservations in certain markets and greater promotion of group sales, in order to attract more local residents to augment the Company's primarily tourist customer base.

The Company is presently exploring a number of potential opportunities to increase revenues at the Las Vegas restaurant, including targeted advertising and promotions directed to guests staying in hotels without significant on-site restaurant capacity, the possibility of serving as a venue for a dinner show and/or cocktail show, and the development of more substantial business through the Company's existing contacts in the tour and travel industry.

The Company is seeking to increase its name brand recognition and establish a secondary meaning in the marketplace for Country Star Restaurants. The Company believes that this will have a favorable impact on the Company's business operations, particularly with respect to merchandise sales and may open up the opportunity for sale of certain food products for distribution to customers through retail channels as well as at restaurant sites. By emphasizing the high quality of its food and offering an exciting entertainment dining experience, the Company believes that it will be able to appeal to a broad consumer base, and specifically those individuals who patronize theme restaurants.

Upon review of Box A, we have chosen the most popular "Theme" restaurant chains; that is, the ones that most people can identify with readily. Planet Hollywood - movie and memorabilia, Rainforest Cafe - jungle stuff and the environment, Hard Rock - rock and roll and memorabilia, and, of course, Country Star Restaurants - country music and memorabilia. It is obvious that PHL, RAIN and RANKY are all much larger than KAFE in every aspect, but compete on an equal footing with Theme. At present 100 million people listen to country music, probably a larger audience than any other musical segment. This, of course, bodes well for KAFE. When you see PHL trades @ $4.69, RAIN @ $8.375, RANKY @ $9.87 and KAFE @ $.07 - one has to take a serious looksee. Note: a small 10K shares investment for roughly $700.00 could turn into a huge return if by chance it was to mimic either PHL, RAIN and RANKY - FOOD FOR THOUGHT!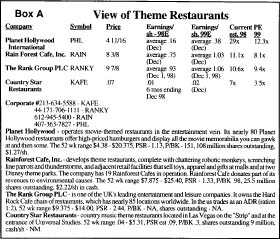 | | |
| --- | --- |
| Box A | View of Theme Restaurants |
Company
Symbol
Price
Earnings/ sh 98E
Earnings/sh. 99E
Current PE
ext. 98
99
Planet Hollywood International
PHI
4 11/16
average .16 (Dec)
average .38 (Dec)
29%
12.3%
Rain Forest Cafe, Inc
RAIN
8 3/8
average .75 (Dec)
average 1.03 (Dec)
11.1%
8.1%
The Rank Group PLC
RANKY
9 7/8
average .93 (Dec 1, 98)
average 1.06 (Dec 1, 98)
10.6%
9.4%
Country Star Restaurants
KAFE
.07
.01 6months ending Dec98
.02 (Dec)
7%
3.5%
Corporate
#213-634-5588 - KAFE
44-171-706-1111- RANKY
612-945-5400 - RAIN
407-363-7827 - PHI
Planet Hollywood - operates movie-themed restaurants in the entertainment vein. Its nearly 80 Planet Hollywood restaurants offer high-priced hamburgers and display all the movie memorabilia you can gawk at and them some. The 52 wk ranger $4.38 - $20.375, PSR - 1.13,P/BK - 151, 108 million shares outstanding, $1.27/sh.
Rainforest Care, Inc - develops theme restaurants, complete with chattering robotic monkeys, screeching line parrots and thunderstorms, and adjacent retail facilities that sell toys, apparel and gifts at malls and at two Disney theme parks. The company has 19 Rainforest Cafes in operation. Rainforest Cafe donates part of its revenues to environmental causes. The 52 wk range $7.875 - $25.40, PSR - 1.33, P/BK .98, 25.5 million shares outstanding, $2.22/sh in cash
The Rank Group PLC - is one of the UK's leading entertainment and leisure companies. It owns the Hard Rock Cafe chain of restaurants, which has nearly 85 locations worldwide. In the us us trades as an ADR (ration 1:2), 52 wk range $9.375 - $14.00, PSR - 2.44, P/BK - NA, shares outstanding - NA
Country Star Restaurants - country music theme restaurants located in Las Vegas on the "Strip" and at the entrance of Universal Studios. 52 wk range .04 - $5.31, PSR est .09, P/BK .3, shares outstanding 9 million, cash/sh - NM
Upon review of Select Financial Data located within Box B, it is easy to conclude that KAFE outshines both CSBR and JOES in every listed financial variable except cash listed within the balance sheet. It is evident from KAFE's restaurant locations, corporate "theme", balance sheet and estimated revenue and earnings for calendar 99 that KAFE within this mini-micro cap selection offers investors minimum downside risk and the greatest upside potential within the next 12 months. The most finger-licking, mouth-watering hidden asset, of course, is the gigantic NOL that KAFE sports on its books, that is, a $45 million prize that could be used to tempt acquisition candidates or larger restaurant chains to acquire KAFE in order to alleviate tax consequences. For the patient investor type willing to speculate a few bucks, KAFE might yield a Bounty of tasty profits.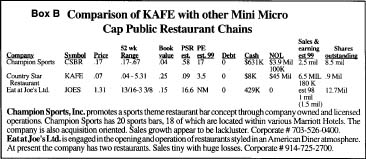 | | |
| --- | --- |
| Box B | Comparision of KAFE with other Mini Micro Cap Public Restaurant Chains |
| | | | | | | | | | | | |
| --- | --- | --- | --- | --- | --- | --- | --- | --- | --- | --- | --- |
| Company | Symbol | Price | 52 wk Range | Book value | PSR est. | PE est.99 | Debt | Cash | NOL | Sales & earnings est 99 | Shares outstanding |
| Champion Sports | CSBR | .17 | .17-.67 | .04 | .58 | 17 | 0 | $631K | #3.9 Mil 100K | 2.5 mil | 8.5 mil |
| Country Star Restaurant | KAFE | .07 | .04 - 5.31 | .25 | .09 | 3.5 | 0 | $8K | $45 Mil | 6.5 MIL 180K | .9 Mil |
| Eat at Joe's Ltd. | JOES | 1.31 | 13/16 - 3 3/8 | .15 | 16.6 | NM | 0 | 429K | 0 | est 98 1 mil (1.5 mil | 12.7 Mil |
Champion Sports, Inc. promotes a sports theme restaurant bar concept through company owned and licensed operations. Champion Sports has 20 sports bars, 18 of which are located within various Marriott Hotels. The company is also acquisition oriented. Sales growth appear to be lackluster. Corporate # 703-526-0400
Eat at Joe's Ltd. is engaged in the opening and operation of restaurants styled in an American Diner atmosphere. At present the company has two restaurants. Sales tiny with huge losses. Corporate # 914-725-2700
OVERVIEW

The editor has personally visited Rainforest, Planet Hollywood, Hardrock Cafe and, of course, the Country Star Restaurants located at the entrance of Universal Studios..

We must admit that KAFE offered a larger range of menu choice and higher quality food and comparable prices.

As you enter through a 42 foot high computerized Juke Box that displays 256 colors, television sets are embedded in the walkway, which leads you to a picture wall composed of 25 monitors. There are almost 100 of them throughout the restaurant. Ten audio - CD listening posts provided us with the opportunity to hear the most recent country hits.

Everywhere you look you will see artifacts from well-known country music artists.

Before we ever met management, we visited KAFE during a visit to Universal Studio in order to listen to a musical concert. After the concert we decided to have dinner. To our surprise the food, flavor, quantity, service, cleanliness, and affordability deserved high marks. We enjoyed barbecued ribs and chicken and, of course, had side orders of their "famous" chili and corn bread. The visuals and sound systems added to our totally enjoyable experience in this "theme" restaurant. We had planned to return on another occasion. A few months later a broker friend introduced us to this mini-micro cap investment and asked us to take a look. We proceeded to meet management and the staff of the restaurant and were impressed. We obviously enjoyed another great meal!

http://countrystarrestaurants.com

Facts to Consider

32,000,000 visitors/yr to Las Vegas. Bullish for the Vegas restaurant.
9,000,000 visitors/yr to Universal Studios. Bullish for the restaurant.
100,000,000 country music listeners nationwide. This is a huge amount of people who can identify with the concept.
Industry sales projection for `998 for eating places - $226 billion.
Restaurant industry sales are forecast to advance 4.7% in 98 and equal more than 4% of the U.S. gross domestic product.
More than 44% of the food dollar was spent away from home in 1995, up from 25% in 1955. This number will continue to expand.
Strength in the economy, low unemployment, and increased disposable income bode well for continued interest in eating out. Just modest growth in wholesale food prices will also bode well for operators.
Restaurant success depends upon customer traffic levels and convenience. Proximity to sites that draw large crowds, such as retail centers, office complexes, and hotel and entertainment centers, is an important consideration. So are accessibility concerns.
Our near-term investment outlook for restaurant, or food-service, stocks is turning more favorable. These stocks have been beaten down on concerns about excess capacity and higher labor costs. Although both are legitimate concerns, we believe that many of these stocks continue to trade at modest valuations and represent good longer-term values.
During the past two decades, an increasing portion of U.S. food dollars has gone to eating out. With a greater percentage of people working, particularly women, there has been less time available for at-home food preparation. Demographics will affect future restaurant spending as well. As consumers get older, they are more likely to move away from fast-food outlets toward mid-scale restaurants.

Final Word

Location! Location! Location!

Country Star Restaurants, in our opinion, has this down pat! The food is very good, the young management team and its staff of 134 all have vigor, focus, drive and passion aiming to create a growing and profitable company within a highly competitive industry. We know that our comparison of KAFE with its larger peers, namely, RAIN, RANKY and PHL, by many will be taken with a grain of salt, but all companies have to start somewhere. KAFE obviously is an emerging growth story that will not meet or fit in every portfolio due to investor criteria. When KAFE first came public a number of years ago, there was much fanfare and optimism, but due to poor management and $45 million dollars later, KAFE was headed for the garbage disposal. New management headed by Dan Rubin brought KAFE back from the dead; i.e., fired all management, hired a competent management team and staff, upgraded the restaurants, its menu, cut costs, introduced "new" and exciting menu items and infused almost $2 million into the operation. The results have been slow, but profitability is close at hand, the hemorrhaging has been reversed and a positive cash flow is at hand.

At the current share price of .07, the downside risk can easily be measured, but the upside potential during the 18 months could be enormous. KAFE has an extremely valuable financial prize, that is, a $45 million NOL, which alleviates taxes forever and is a valuable "carrot" for the acquisition scenario, which, by the way, is being actively pursued. In our opinion, this tax carry forward is worth at least .45/share minimum. KAFE could also be taken over just for the NOL. Many positive scenario could develop from this financial variable alone. We initiate coverage on KAFE for potential upside during the next 18 months of 10x the current price, resulting from either sales growth, acquisition or the subject of a takeover by some other restaurant chain eyeing KAFE for this huge NOL and prize locations of both restaurants; that is, the entrance of Universal Studio, California, and Las Vegas "Strip" location, between the Monte Carlo and the Bellagio casinos.

INVESTMENT SUITABILITY

Part A

For aggressive accounts that enjoy speculation, limited RISK, with tremendous upside potential, we suggest a position in KAFE.
For less risky accounts, we again suggest KAFE and RAIN (highly profitable, trading at 52 week low and management problems should straighten out soon).

Part B

RAIN - management shake-up - BUY
PLH - overpriced and reduced food quality - AVOID
RANKY - no growth - AVOID
CSBR - terrible food - AVOID
JOES - diners are an interesting concept, but losses are huge - AVOID

Country Star Restaurants would like you to visit! If you would like to receive a 10% discount at either the Las Vegas or Universal Studios restaurants, just visit their website at www.countrystarrestaurants.com Just click on the home page dining picture and receive a 10% food discount via e-mail (good for 30 days).

Two Locations

Country Star Restaurant
Universal Studios, California
(every day) - Hours of Operation
Winter - 11:30 a.m. - 12 p.m.
Summer - 11 a.m. - 1 a.m.
818-762-3939

*Las Vegas, Nevada
(every day) - Hours of Operation
Monday - Saturday
Lunch 11 a.m.
Dinner shows - 7 p.m. & 10 p.m.
Sunday dinner until 9:30 p.m.
* between The Bellagio and The Monte Carlo Casinos
702-740-8400

CORPORATE INFORMATION

Year end - December 31
IPO - December 15, 1993
Fully diluted shares outstanding as of Aug 1, 98 - 9,000,000
Convertible debt of $2 million owed to Mr. Rubin can be converted into 16 million additional shares. According to Mr. Rubin, he has no interest in conversion until the stock is at least .50, which, of course, would reduce the additional amount of shares to only 4 million, which would also be restricted under rule 144.
134 employees
7,000 shareholders
Long-term debt - 0
Feb. 12, 1998 - one for 10 reverse
Fully reporting with SEC
Market - $630K
Estimated revenue for 1998 - $5 million - assumes second half of 98 will show a profit of 1¢ from continuing operations.
Estimated revenue for 1999 - $6.5 million with operating net income/sh of 2¢ - yield an estimated PE of 3.5x
NOL - $45,000,000 - the "Cherry"
Dividend - $.00
Book value as of June 30 - .25
Free trading shares - 9,000,000
Revenue has remained within a range during the past few years, but the losses have narrowed dramatically - during 96 losses $15.54/sh (based upon 1.1 million shares), $5.38/sh for 97 (based upon 3.2 million shares). For the six months ending June 30, losses narrowed to $.22/sh for 98 (based upon 8.7 million shares). Note: If we account for extraordinary gain, our losses narrowed even further to a mere .05.
Corporate Headquarters
Country Star Restaurants
4929 Wilshire Blvd. Ste 428
Los Angeles, Ca 90010
Contact: Ext. 105, Corporate Controller
323-634-5588
Officers & Directors
Dan Rubin - President/CEO & Chairman
Robert Nardone-Director
Darren Rice- Director
Robert Davidson - Secretary

Our Position
S.A. Advisory, an advisory firm, acts as a consultant to KAFE as of September 1, 1998. We have been paid for the production of this anecdotal research report. We currently own 100K shares in KAFE. We purchased shares in this issue during June - July 1998. We may sell or buy additional shares at our discretion. Before investing, consult the company for any questions that you may have concerning KAFE. Visit our Website: SA Advisory's Home Page: http://www.saadvisory.com leave us your e-mail address for free updates. See past e-mails and newsletters and/or call (801) 272-4761
Copyright © 1998 S.A. Advisory